Unique Benefits of Norman Prince's Program
Are you ready to dramatically improve your study and note-taking skills?
Are you prepared to gain better confidence and greater confidence?
Significantly improve your study and note-taking skills in as few as 6-8 hours with my high-intensity program.
Learn to:
Save time by being better organized to study more effectively
Boost concentration while reading, studying, writing, listening, and taking tests
Apply note-taking techniques to text and non-fiction chapters and books, literature, lectures, presentations, courses, and work materials
Increase your retention with a comprehensive 10-step active learning method that includes note-taking
Results
What skills will you gain?
You will see noticeable improvement in concentration, comprehension, note taking, and retention.
How soon will you see results?
You will see progress by the end of the second session.
Highights of some notable clients
A high school student took my program, leading to getting straight A's in college
A high school student refined her goals and learned techniques to improve note-taking and remembering skills
Get in touch!
Please
contact me
to schedule a
FREE
30-minute consultation to:
Get answers to your questions
Learn about my programs
Discover how we will work together to accomplish your goals
Personalized Programs
I tailor my cost-effective programs to meet your needs, ensuring that you will be fully prepared. Using my proven methods and materials, I will customize your program and guide you through every step to meet your goals.
Get better study and note-taking skills in less time than in other programs by following my time-tested, 9-step process:
Analyze your background as a student and note-taker
Assess your strengths and weaknesses as a reader and learner
Discuss your needs and goals
Gain extensive concentration improvement strategies
Learn proven anxiety reduction techniques
Discover comprehensive suggestions for nutritional preparation, including "brain food"
Provide analysis if your strongest intelligences—ways you learn best—with tips on how to use them in your future learning
Apply note-taking techniques to text and non-fiction chapters and books, literature, lectures, presentations, courses, and work materials
Carry out the program
Program options include:
Combine with speed-reading program
Combine with standardized test prep program
Apply to your academic and/or work materials
Additional info
Detailed progress summaries for all sessions are sent to parents and counselors of students.
My Exclusive Guide
Over three decades as an educator, I've written comprehensive guides that produce optimal results in my intensive programs. These guides are only available to my clients. I continually update and improve them based on the latest client fedback, research, and professional reading.
My guide:
Saves time otherwise spent taking notes
Includes examples of numerous note-taking techniques—notes for chapters, articles, complete books, lectures and presentations, and complete courses
My exclusive guide also includes study techniques such as:
Pre-reading all materials to get a comprehensive overview
Self-testing—turning subtitles into questions and reading to answer them in your notes
Background
I'm unique in reading, test prep, and learning skills because of my extremely diverse experience:
More than 10,000 hours of tutoring
20 years as an assistant professor of English at Skyline College
Designing and writing exclusive guides for programs on study and note-taking, speed-reading, and standardized test prep
Tutoring many adults, including many businesspeople and professionals
Teaching study, reading, test prep, and grammar workshops to:

Stanford University
USC School of Education
Gonzaga University Graduate School of Business
Individual Options
One-to-One
Tutoring is personalized to maximize your study, note-taking, and learning skills
Please contact me to schedule tutoring or with questions.
Logistics
Location
Noe Valley, San Francisco
Remote Tutoring
Online tutoring via Zoom.
Contact me for details at (415) 821-6595.
Time frame
How long is the program?
Study and Note-Taking skills clients spend 6 to 8 hours, usually over 3-4 weeks. Sessions are 2 hours long—other session-lengths and time frames are possible. For maximum benefit, do at least 6 hours of outside work, so you can apply the new skills to your materials. Ongoing application is essential to consolidate these skills.
Other Programs
I also offer programs on standardized test prep (ACT, SAT, and others), speed-reading, grammar, and /or vocabulary, some of which can be combined with study and note-taking skills.
On-Demand
Ongoing assistance is available as needed, applying study and note-taking skills, speed-reading, writing, and grammar to your materials and projects.
Hourly and Program Rates
Please contact me for details including pricing and rate reductions for individuals.
Payment can be made by PayPal, check, money order, or cash.
More on Policies.
Check out Testimonials.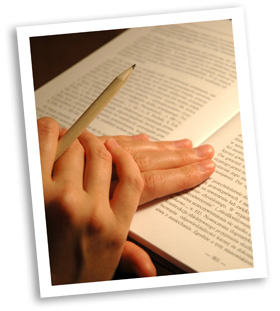 "Norman has decades of experience and is very effective and personable. I had my granddaughter take his study course in high school; she's now in college and gets straight A's."